The products and services mentioned below were selected independent of sales and advertising. However, Simplemost may receive a small commission from the purchase of any products or services through an affiliate link to the retailer's website.
Are you and your kids bubbling with anticipation for the Christmas holiday? There's no better way to count down to the big day than with an Advent calendar. It's a special moment you can share as a family each morning (especially when that moment is accompanied by some kind of treat). Why not get those creative juices flowing and add to the fun by creating your own? In addition to being a fun project you can do with your kids, an Advent calendar will also undoubtedly reduce the number of times the question "How much longer until Christmas?" is asked—even if you're the one asking! Here are 11 of our favorite DIY Advent calendars. Better get cracking—Dec. 1 will be here before you know it!
1. K-Cup Tree
A perfect way to recycle and reuse your old K-Cups. After cleaning out the plastic containers, you can turn them into this adorable treat-filled tree. Or, for the coffee lovers out there, your job is even easier. Just decorate different flavors of K-Cups for each day till Christmas.
2. Ornament Calendar
Reclaimed wood can easily be made into this gorgeous living room Christmas decor. Each nail holds a number tag and an ornament to be hung on the tree. By the time your Christmas tree is decorated, the big day has arrived. It also cuts down the candy consumption because we all know there are more than enough treats to be had around the holidays.
3.  Muffin Tin Countdown
Resourceful is the name of the game here. Search for an item with small compartments then find a way to cover them up. Wrapping paper, magnets and stickers are all options for hiding mini treasures. This mini muffin tin from The Krazy Coupon Lady was a great choice because the holes on the side allow it to be hung with a festive ribbon.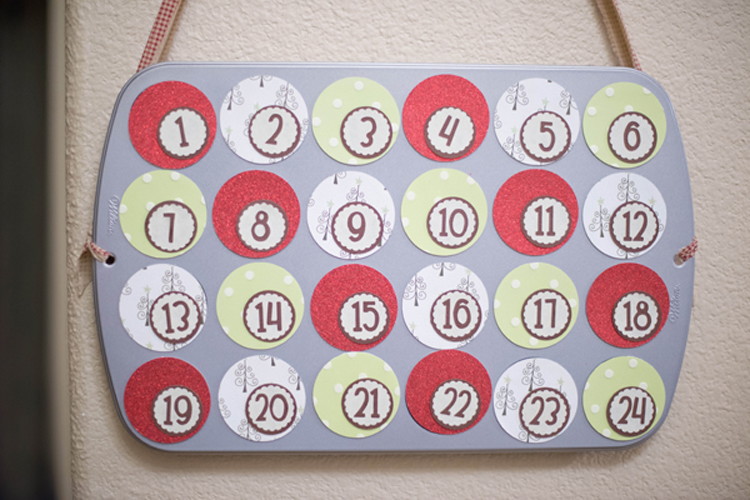 4. Shoe Organizer
The best part about this method from Eighteen25 is how much you can fit in each day. This makes using the calendar for multiple children a breeze. Just put two or three or four or more prizes right into each pocket. One calendar for the whole family without any bickering over who is supposed to get the prize today.
5. Mini Burlap Sacks 
Rustic and beautiful, yet so simple to create. Just string stenciled burlap sacks across your mantel.
6. Paper Plates 
So perhaps not everyone would like these strung across their living room, but if you're not worried about kid-created home decor, this idea from Filth Wizardry makes a fun, festive project. It may take a few days to get your little minions to decorate all 24 plates, so advanced preparation will be necessary. What an awesome way to keep little hands busy.
7. Envelopes
These envelopes can go playful and kid-friendly by having your kids decorate each one, or simple and sophisticated. Fill them with silly poems and pictures or inspirational quotes and verses. Christmas doesn't have to be just about the presents.
8. Grab Box
You know that annoying person who wraps everything in the stocking or gift basket, forcing you to go through every single chapstick or pack of gum and spend time unwrapping it? Oh you love that? Right, who doesn't love more gifts to open?! Turn the same concept into an Advent calendar: Just find a box and fill it with 24 individually wrapped items. The size of your prizes determines the size of your box. The lucky recipient of your Advent grab box will get to pick out one present a day.
9. Print And Paste
If craftiness is not your forte or you dread the idea of decorating 24 items with unique designs, there is still hope for your Christmas countdown. Just print and paste this calendar on any prize-holding vessel.
10. Paper Bags
These bags leave endless options for all the creative, inventive personalities out there. (And for the rest of us, see above printables, which can be pasted right on the bags.) Simply decorate to your taste and label with the appropriate numbers.
11. Advent Online
If there is just no room for these elaborate calendars in your home, then try creating an online version. Advent My Friend allows you to make a personalized online Advent calendars. You may also want to check out these previously created online calendars to help count down the days.