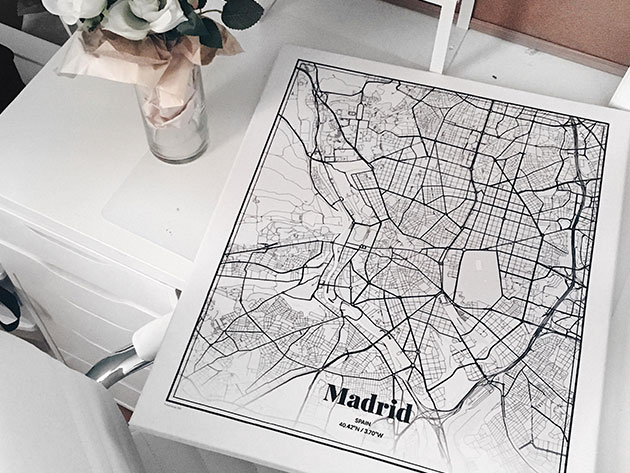 Travel is one of life's most exhilarating experiences. Everything from a night-out-on-the-town to a stroll in the park is infinitely more fascinating when you're in a new and exciting place. To know a travel lover is to be a travel lover — and we know quite a few. And in celebration of summer vacation, we've scoured the web for the best deals on clever gifts and gear for those who've been bitten by the travel bug.
1. This sleek lingerie bag that keeps intimates and delicate garments safe and snag-free 
So you've packed your clothes, your shoes, your gadgets, and almost everything else neatly. Don't you think your delicates deserve some lovin' too? This genius lingerie bag has two sides — one that says 'wear me,' and one that says 'wash me,' allowing you to properly separate your intimates. When you're ready to clean your dirty undergarments, simply put them inside the removable mesh insert and throw it directly in the washer. The mesh bag will then protect them, keeping them safe from snags.
Joyus Exclusive Lingerie Bag, $38. Use the code JOYUS20 at checkout for an additional 20% discount.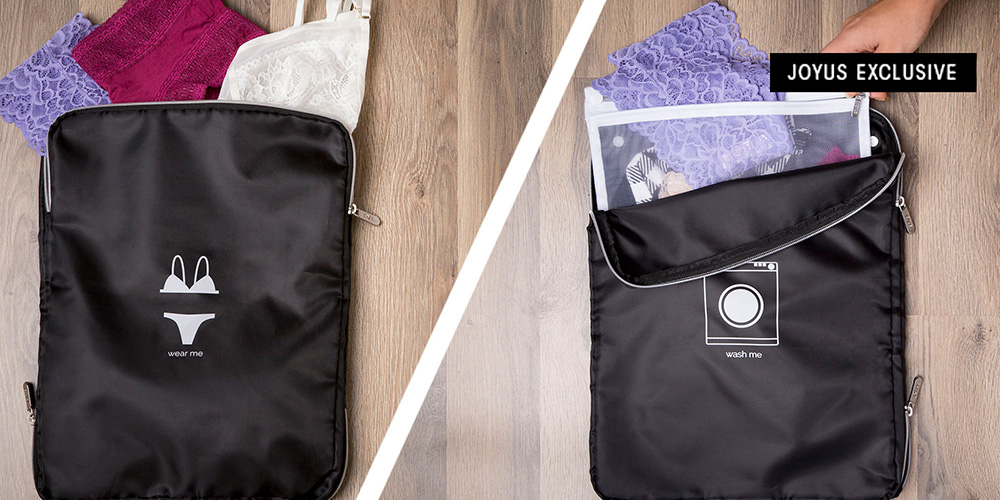 2. Washable packing cubes that create order on the wildest adventures
Packing cubes are everywhere these days, and for good reason. Each one has a designated use — one for basics, one for undies, and one for laundry so you'll always be able to find what you need when you need it. They're all constructed with mesh panels so you can easily see what's inside, and they're designed to fit together perfectly, so your clothing remains organized.
Joyus Exclusive Packing Cubes, $68. Use the code JOYUS20 at checkout for an additional 20% discount.
3. A minimalist's dream waterproof duffel bag
Constructed with weather-resistant material and waterproof zippers, this bag is designed to help you get to wherever you need to go no matter how tough the terrain. It comes equipped with features that you may need in case of an emergency. Paracord zipper pulls? Check. Military-grade clips? Check. Mini travel kit? Check. Did we mention that it's also Kickstarter's most funded bag ever?
Bomber Barrel Duffel Bag Complete Set, $69.99, 65% off of $200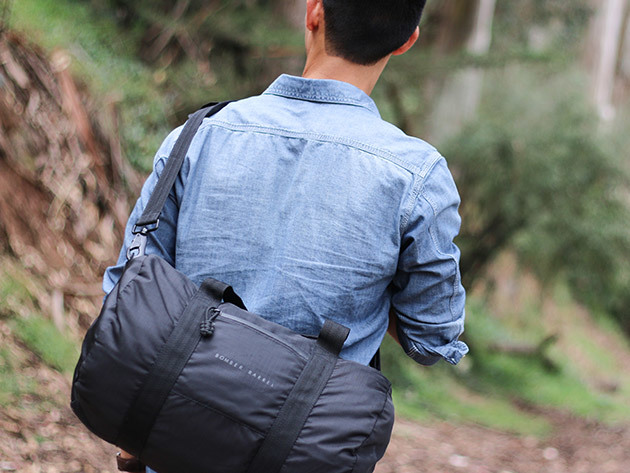 4. The tiniest travel adapter that works in 150 different countries 
This small but mighty charger removes the hassle of having to find an adapter once you land in a foreign territory. It boasts a 5-in-1 interface that supports US/UK/EU/AU and USB-A standards and is compatible with any iOS and Android device. There's also no need for fumbling around with buttons. The slide and plug design makes it effortless for you to switch around plugs and quickly start charging.
OMNIA TA502 Travel Adapter, $39.99, 18% off of $49
5. This portable wardrobe organizer 
Packing and organizing while you're on the road is a skill some of us need to learn the hard way. With this travel bag, arranging your belongings comes effortless, as you're already provided with mesh pockets to slot your things into. Pack, roll, hang, repeat.
Rolo Travel Bag, $42.99, 14% off of $49.99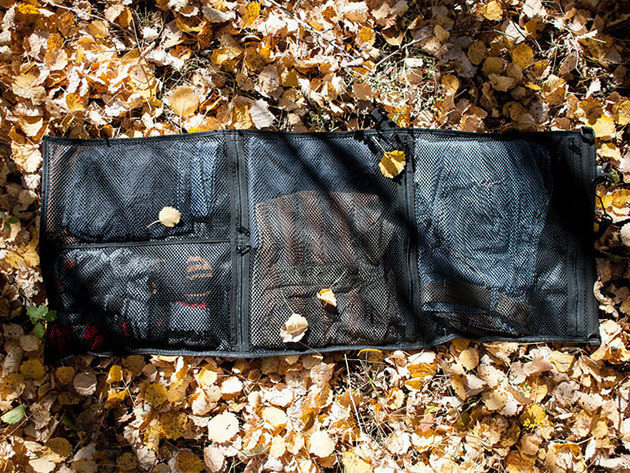 6. A custom map to commemorate an incredible trip or your hometown
If pictures of a certain place aren't enough for you to remember it by, transform it into a map that you can marvel at whenever you feel like taking a trip down memory lane. Grafomap allows you to create bespoke maps of anywhere in the world, and lets you customize it to your heart's content. All maps are printed on only the highest-quality materials, so you can keep it on your wall forever.
Grafomap Custom Map Poster: 30% Off Coupon, $34.30, 30% off of $49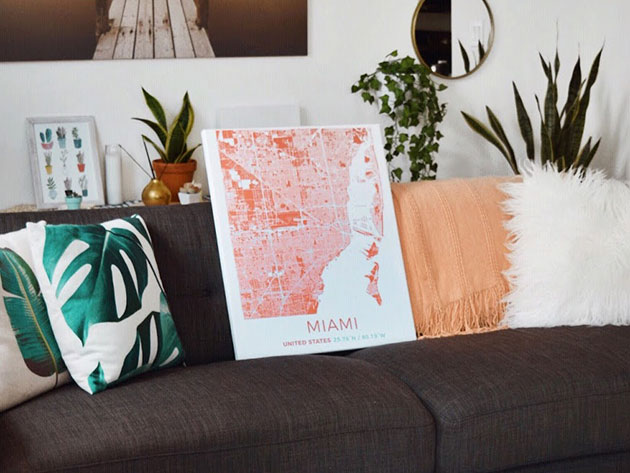 7. This ultra-lightweight carry-on that comes with thoughtful compartments to keep your things organized
Luggage as light as a feather? Impossible? We think not. Weighing at only 6.2 lbs, this carry on is as lightweight as they come, and has category compartments for essentials like socks, chargers, and undergarments. Not only will you get to bring maximum luggage, you can also kiss goodbye to hefty excess baggage fees.
Genius Pack Aerial Hardside Carry On Spinner, $178.99, 27% off of $248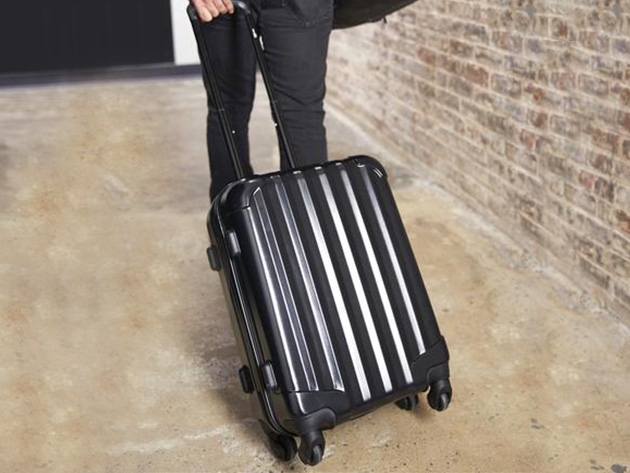 8. This mini organizer that keeps baubles tidy and cosmetics safe from accidental spills
No one wants icky shampoo splattered all over their precious belongings. Use this minimalist organizer to store everything from hairspray to cosmetics to contact lens solution. It comes with a mini pouch with a zipper closure for stashing away small items like jewelry and medicine, as well as a PVC pouch for your glasses or brushes.
Carry-All Travel Cosmetic & Jewelry Pouch, $15, 69% off of $49.95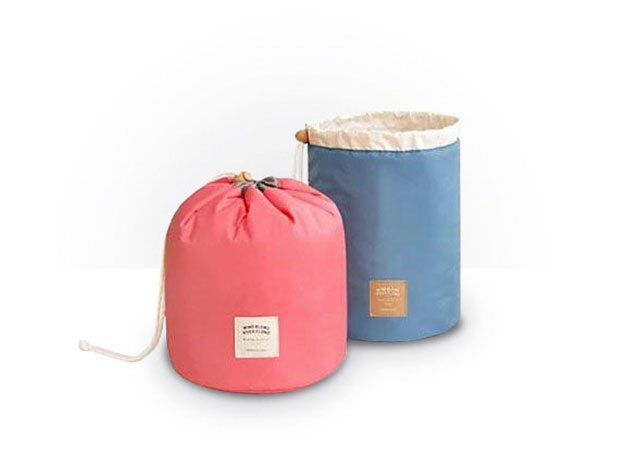 9. A security wallet that protects your passport and credit cards from digital thieves
Thieves are getting more and more creative these days. Instead of outright snatching your things, they come at you on the sly and use RFID scanners to steal your credit card information without you knowing. This RFID-blocking wallet makes sure that that won't ever happen so you can rest assured that your personal information is safe from prying creeps.
Passport Wallet with RFID Lock, $21.99, 72% off of $79.95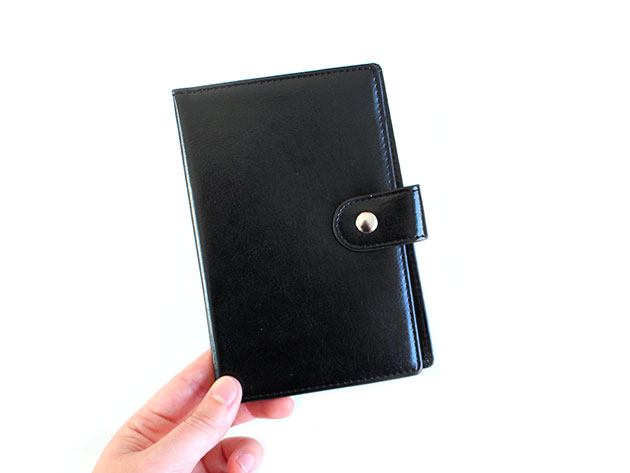 10. This genius luggage shelf that keeps everything in its place and makes packing (and unpacking!) a breeze 
Don't listen to the haters. You CAN bring an entire shelf on your travels. This carry-on friendly shelf can fit seven shirts, five pairs of pants, seven pairs of socks, seven pairs of underwear, one pair of shoes, some toiletries, travel accessories, and travel documents. It's like you never really left your closet at home.
Joyus Exclusive Luggage Shelf, $79. Use the code JOYUS20 at checkout for an additional 20% discount.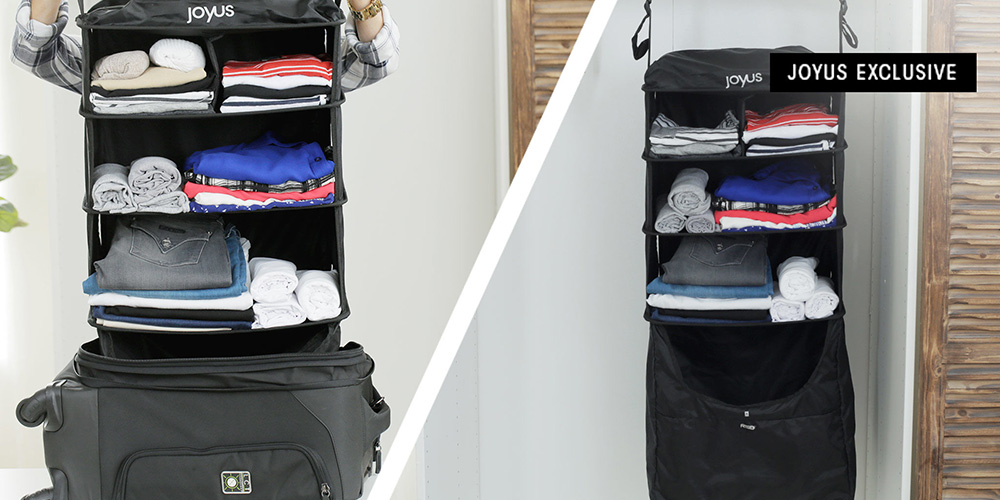 11. A stylish pouch brimming with fancy goodies you could ever want
Travel pouches don't always have to come in boring, neutral colors. This pouch trio each has cork and neon detailing, allowing you to travel in style. They're also packed with beauty samples including a mud mask, styling cream, and deep conditioning mask, so you can transform your boring long-haul flight into one fun salon experience.
Joyus Cork Pouch Trio, $48. Use the code JOYUS20 at checkout for an additional 20% discount.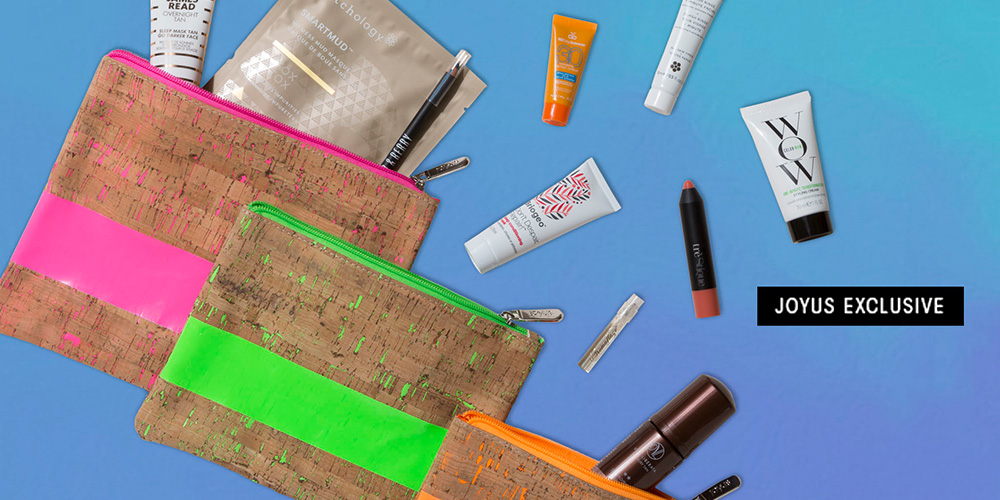 12. This Bluetooth-enabled lock that keeps your luggage secure
Securing your luggage with keys is so last year. This Bluetooth-enabled lock alerts you if your luggage gets removed from a designated area and lets you unlock your bag with just a single click. Plus, thanks to crowdsourced location tracking, you'll always know where your belongings are.
AirBolt Smart Travel Lock, $54.99, 31% off of $79.95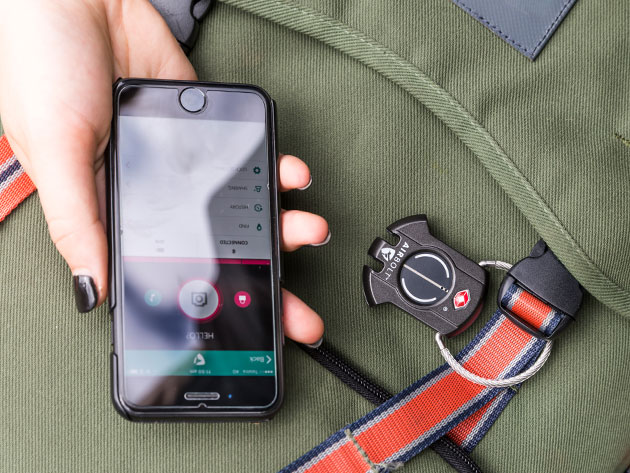 13. This adorable puffer jacket that doubles as a neck pillow
A jacket that can keep you warm and keep your neck from feeling sore? Sign us up! Part cozy jacket, part pillow, this travel puffer gives you the best of both worlds. You can use it as a jacket if you need to be engulfed in warmth or as a cozy neck pillow if you need to get some shut-eye when traveling.
Joyus Travel Puffer, $128. Use the code JOYUS20 at checkout for an additional 20% discount.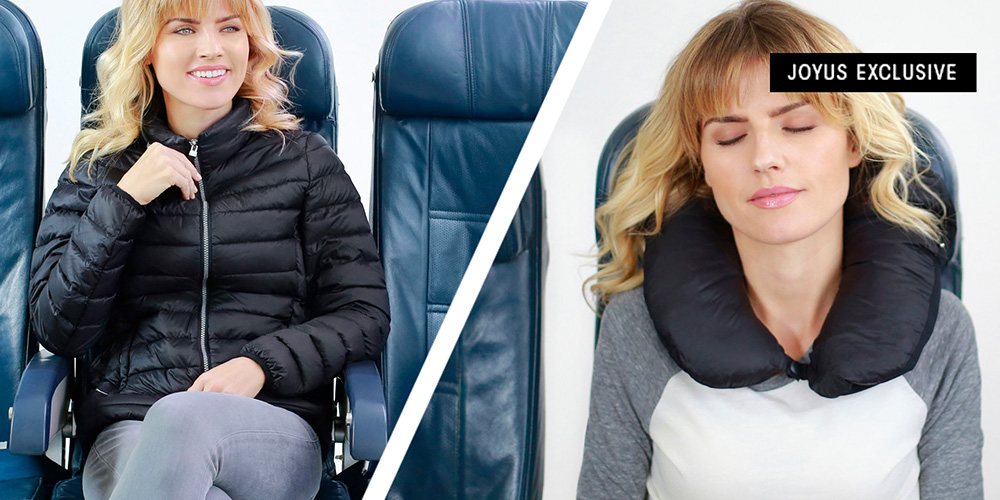 14. A travel steamer that zaps wrinkles in just two minutes
Wrinkles and creases? Ain't nobody got time for that! This 700 W fabric steamer is so powerful that it can remove stubborn wrinkles from clothing, drapery, table linens, and all kinds of fabric in just two minutes. Its built-in water tank lasts for 10 minutes of continuous steaming, and it comes with a white Saffiano travel pouch for easy storing.
Joyus Travel Steamer with Pouch, $17.99, 48% off 35.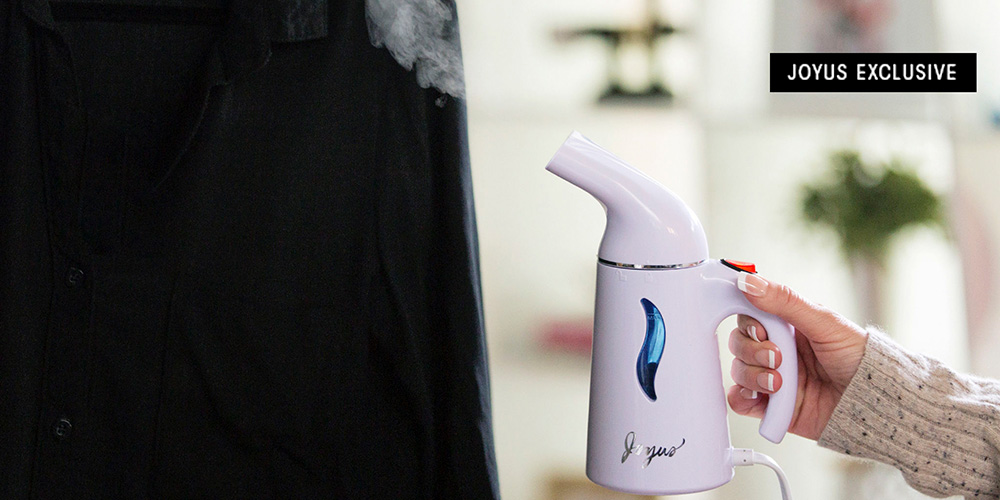 15. This carry-on approved travel backpack
Like any superhero, you must keep your suit ready at all times. This backpack is equipped with a tri-fold garment suiter to make sure that your clothes stay organized and wrinkle-free, along with a padded compartment for your laptop, laundry compression technology to keep gym laundry separate, mesh organization compartments for storing items like water bottles and tech accessories, and an exterior access smartphone pocket with audio port. It even has a GP Charger to juice up your devices while on-the-go.
Genius Pack Travel Backpack with Integrated Garment Suiter, $179.99, 9% off of $198