The products and services mentioned below were selected independent of sales and advertising. However, Simplemost may receive a small commission from the purchase of any products or services through an affiliate link to the retailer's website.
Wal-Mart may not be the first store that comes to mind when you're thinking of where to buy home decor—but perhaps it should be. Especially with the Better Homes and Garden line, this store has some amazing finds that you can score even on a tight budget. It's also a great place to snag some pieces to decorate your home for the holiday season. Check out these finds and get inspired.
1. Candlesticks
This bright metallic color with varying heights will add some major bling to your table. Or, display these pillared candlesticks on a mantel. Either way, they will brighten up your home.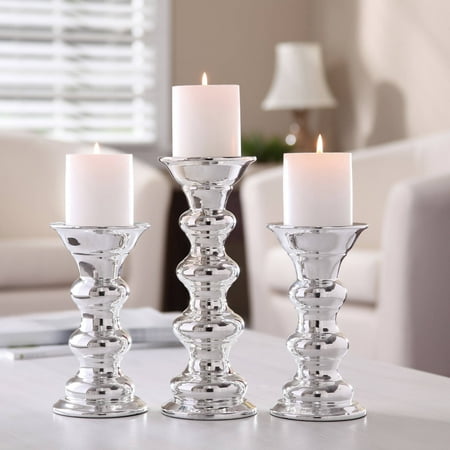 Better Homes and Gardens Ceramic Metallic Pillar Candle Holders, Set of 3, $29.97
2. Mirror Set
This reasonably priced mirror set is perfect for adding a little glamour to a blank wall. The exaggerated ornate features will make a bold statement no matter how you arrange the three pieces. If your empty wall space is too large for just these small mirrors, try adding the larger coordinating Better Homes and Garden Baroque Mirror.
Better Homes and Gardens Baroque Mirrors, set of three, $12.97
3. Shelving
Sophisticated and simple, this shelving unit could be used in any number of places. Five open shelves will keep your space fluid as well as help to solve any storage problems. The vintage caramel colored shelves with spindled legs bring a touch of class to this piece.
Home Styles Orleans Multi-Function Shelves, $220.19
4. Shower Curtain
The silhouette of the brown tree draws out the bold blue pop of color from the birds. Meanwhile, the white background brings fresh, clean simplicity to the bathroom.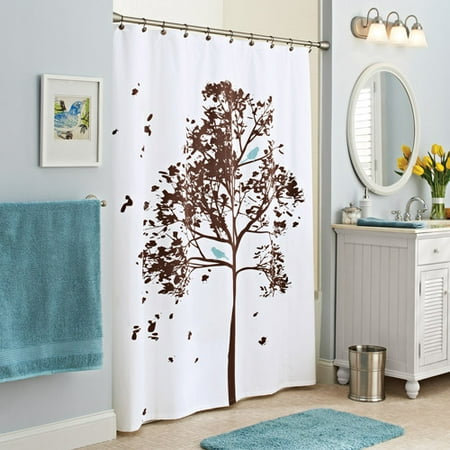 5. Heart Pillow
Bring a little love into your home with these fab pillows. Vibrant colors, interesting designs and inspiring phrases will bring some personality to your room. At such a reasonable price, you will need more than one.
Better Homes and Gardens Gold Heart Foil Pillow with Binding, $8.97
6. Studded Mirror
A versatile piece, this studded mirror could be used to visually enlarge a room. The linen covered frame and the brass pattern show how much attention was given to the details. Whether you hang it vertically or horizontally, it's sure to bring some depth to your space.
Studded Mirror, $208.18
7. Dining Room Set
A perfect balance of country and modern, this rustic table provides plenty of space to entertain your guests, while the sophisticated beige chairs are comfortable enough for leisurely dinner parties.
Better Homes and Gardens Providence 7 Piece Dining Set, $699.00
8. Window Panel
Everyone loves bright sunny rooms, but there is a such thing as too much of a good thing. These window treatments offer room darkening lining to block out any unwanted sunlight. Made from faux silk, the panels create a light and vibrant look.
Better Homes and Gardens Persian Damask with Room Darkening Lining, $19.97
9. Linen Headboard
A simple way to up your style factor, this modern piece will enhance any bedroom set. Even better, its sleek construction will keep it from consuming your space. There are three different color options to make this headboard even more adaptable.
Better Homes and Gardens Grayson Linen Headboard, $119.00
All images from Wal-Mart.