Sometimes, the best way to get out of your shell is to invite other people into it. This works especially well if you are a tortoise.
This heartwarming story starts with Andrea, a foster with 2nd Chances Rescue, who told the YouTube channel PAWsitive about the time she rescued four puppies after a man found them in his yard.
"A man came up with a beer box filled with these four puppies,"Andrea told PAWsitive. "He said he caught them in his backyard and he wasn't able to catch the mom. … They were scared, they were little."
So Andrea brought all four puppies to her home in California, which she also shares with a rescue tortoise named Goliath. Then one day, Andrea couldn't find one of the puppies.
"I went out to get them and I couldn't find one and I panicked," Andrea told PAWsitive.
But when she found the puppy… well, see for yourself:
Yep, the puppies apparently decided that Goliath needed some furry roommates in his hutch. In the video, you can see the puppies huddled in Goliath's outdoor hutch with him, as well as licking his face, riding him, and even eating zucchini with him.
"They seemed to find a sense of security being with Goliath," Andrea told PAWsitive. "I would find them snuggled around Goliath during the day."
I'm sorry, I can't handle all the cute.
Now, it's a little harder to get a read on the feelings of reptiles. And at one point in the video the puppies do move Goliath's snacks farther away from him, which if you are a slow-moving tortoise, might make you hangry. But Andrea said she thinks Goliath was just as enamored with the puppies as they were of him.
"I think he was thrilled, I think he loved it," she said, noting that previous rescue dogs tended to stay away from him. "(Other dogs) see him, they're afraid of him, they ignore him."
Of course, seemingly random animal bonds are nothing new. There's a dog, cat and rat trio who are best buddies instead of chasing each other like in a "Tom and Jerry" cartoon. Don't forget the dog who adopted a bunch of chicks! And of course, dogs and tortoises forming unlikely teams is nothing new either: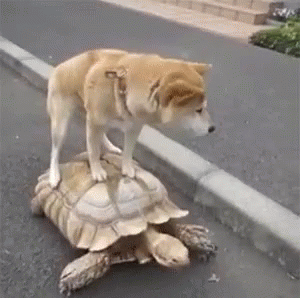 Hooray for animal friendships!
[H/t The Animal Rescue Site]