Maymo the beagle is what the young people like to call "internet famous." With an adorable face and a high tolerance for his owners dressing him up in wacky costumes and playing pranks on him, the lemon beagle is an online star. His Instagram account has more than 160,000 followers and his YouTube channel has more than 400,000 subscribers.
Most of the videos consist of Maymo's owners — who appear to have a lot of costumes and even more free time — dressing up in various outfits and video-taping Maymo's adorable reactions.
In one of Maymo's latest videos from Sept. 9, Maymo is presented with a small rubber duckie, which appears to give him great joy. After getting his initial rubber duckie, Maymo's owners decide that if one is good, more is better, and proceed to dump an entire flock of rubber duckies on Maymo's dog bed.
Suddenly finding himself #blessed with an abundance of fake fowl, Maymo proceeds to free the toys from the confines of his doggie bed to the wide open expanse of the floor, where his owners will likely be finding stray toys for the next five years.
But wait, there's more Maymo! If one is good and more is better, then bigger is best. Maymo's owners present the dog with a giant inflatable duck, which Maymo immediately pounces on.
You can watch the whole video here (you might want to wear headphones because it gets squeaky):
https://www.youtube.com/watch?time_continue=68&v=WW7kzt2O-0g
Sometime after the video was filmed, Maymo got a rubber duckie costume of his very own:
https://www.instagram.com/p/BY1Ei_kjfR4/?hl=en&taken-by=maymothedog
The video takes us all back to a simpler time when a bath and a rubber duckie was all we needed to make us happy.
Maybe that time was not as long ago for some of you, but we are not here to judge.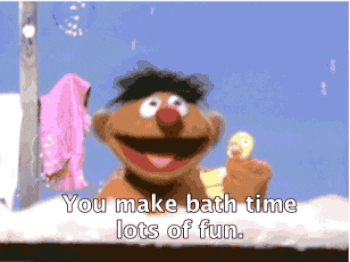 If you liked this video, you will likely have no issues losing hours of your day watching Maymo engage in similar acts of Internet tomfoolery with his owners. I'm just going to leave this here…