From cereal to yogurt, Girl Scout Cookies have already begun to sweeten our mornings, but now, a new addition to our breakfast routine is sure to start the day off just right.
Dunkin' Donuts has just introduced three new coffee flavors inspired by the iconic cookies. Now, you can get energized with a cup of Thin Mint, Coconut Caramel or Peanut Butter Cookie coffee! After all, there really is no wrong choice in the world of Girl Scout Cookies—or coffee, for that matter.
All three flavors are available in hot or iced coffees, lattes, macchiatos, frozen coffees and frozen chocolates now through May. Thin Mint-flavored frozen chocolate?! Dreams really do come true.
The flavors were unveiled via Facebook Live from Savannah, Georgia, the birthplace of Girl Scouts of the USA, for National Girl Scout Cookie Weekend, which celebrates more than a century of the pint-sized cookie peddlers. Today, more than 1 million girls sell cookies in 92 countries, with 100 percent of the net revenue from cookie sales going to the girls and their local council.
"Our guests have come to expect and enjoy fun, innovative flavors from us, and what could elicit more smiles than the iconic taste of Girl Scout Cookie-inspired flavors in your favorite Dunkin' Donuts coffee?" Patty Healy, senior director of integrated marketing at Dunkin' Donuts, said in a press release. "It's a natural fit and a powerful combination."
Dunkin' Donuts will also be opening its doors at select locations to the Girl Scouts, so while you're picking up your cookie-flavored drink, you can also grab a box of the real thing!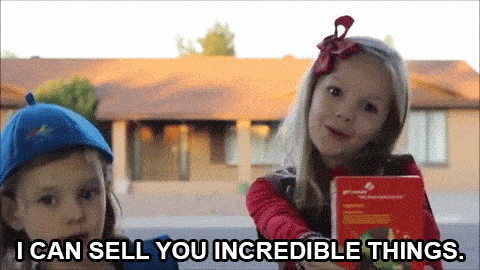 Don't have a Dunkin' Donuts near you? While you'll be missing out on the coffee, don't worry—you can pick up a box of cookies at multiple places, and even online.
You can also buy the cookies year-round on Amazon, so you never have to wait for the season. And a word of advice? Stock up and freeze them—Thin Mints especially are even better when frozen!