The products and services mentioned below were selected independent of sales and advertising. However, Simplemost may receive a small commission from the purchase of any products or services through an affiliate link to the retailer's website.
Labrador retrievers are the quintessential American dog breed. In fact, the American Kennel Club says that labs have been the most popular breed in America for 24 years straight. And no wonder! They are friendly, trainable, good with kids and seemingly built for snuggles.
Here are a list of unique and sweet gifts for the lab lover in your life:
1. Vinyl Window Decal
Most labs love to go for car rides. If you are a lab parent, you're probably used to shuttling your doggo from one place to another, so this funny vinyl window decal lets the world know that you may have a lab on board, but you definitely have one in your heart. Find it on Amazon from NickerStickers.
2. Labrador Retriever Pillow
I love this hilarious and life-like lab pillow! I think it would make an awesome gift for a college freshman who is leaving home (and their lab) for the first time. Curling up in a dorm bed can be lonely…but not with this lab pillow to make you feel right at home. Although it could also make a perfect gift FOR your lab. He can cuddle it while you're at work! Find it at Wayfair from Plow & Hearth.
3. Labrador Retriever Cuff-Links
I love this idea for a lab lover who is a groom-to-be. With wedding season coming up, this would make a perfect gift for a bride to give her groom. That way, even if his lab can't be there in person (hey, did his invite get lost in the mail?!), at least he can be there in spirit. It's also great for anyone who dresses in business formal to work. Fun cuff-links are always a great way to break the ice during meetings with new clients. Find them at Nordstrom.
4. Cheers To Your Lab
With this wine bottle holder, you can display your wine bottles on your counter and show off your love for labs at the same time. It's so cute and life-like, you might want to give him a pet while you're opening your vino. Find this wine bottle holder on Jet.
5. Labrador Retriever Wine Glass
Whether you fill it with red or white, this beautiful, etched glass is perfect for lab lovers. Find it on Etsy from CreateBrightly.
6. Labrador Retriever Weather Vane
Which way is the wind blowing? You'll always know with this adorable weather vane made just for lab lovers. Not only is this gift functional (it can monitor wind direction and predict weather patterns), but it's also a beautiful art piece with which to decorate your home. Find it on Garden Fun.
7. Labrador Retriever Toilet Paper Holder
This hilarious and unique toilet paper holder will be sure to make your guests laugh every time they need to use your loo. Find it at Walmart.
8. Quirky Labrador Retriever Portraits
These funny prints are perfect for the quirky guy or gal in your life. Get the pair and place them in your home so your guests know you love labs, and that you have a serious sense of humor! Find them on Houzz.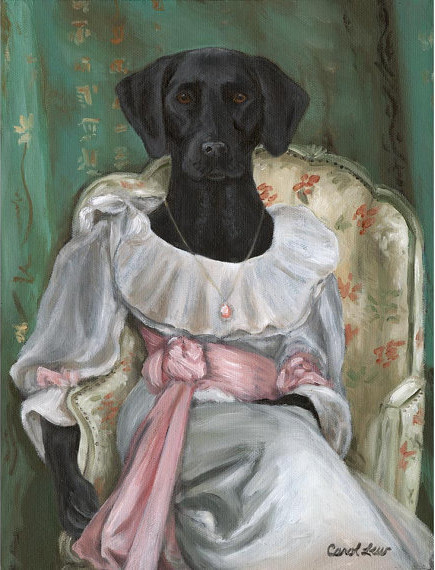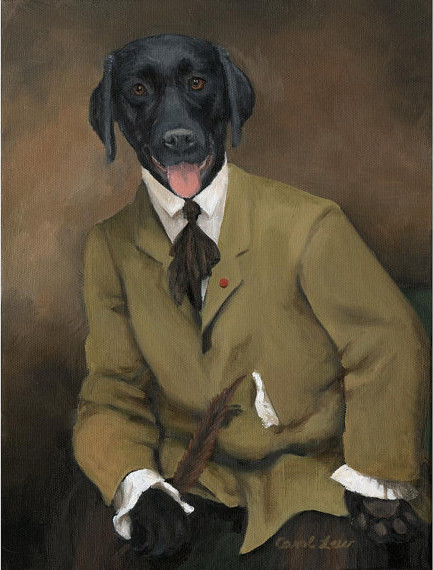 9. Labrador Retriever T-Shirt
This shirt is perfect for the guy who loves labs. It's sure to earn plenty of chuckles, and it's soft and lightweight for summertime. You can choose whichever color or size you desire, and you can even add pajama bottoms if you wish. Find it at CafePress.
10. Labrador Retriever Baby Onesie
Labs are generally wonderful with kids, even wee babies. So, when a new little person joins the family, it's only right that they should pay tribute to their loving big brother or sister. Find this cute onesie at Etsy from mkclassyprints.
11. Labrador Retriever Sculpture Lamp
This hand-painted resin lamp will not only light up your foyer, it will also light up your heart thanks to the sweet sculpture of a faithful lab. Find it at Cabela's.
12. Help Labrador Retrievers In Need
For the true lab lover, nothing is more fitting than a gift in their name to help rescue labs in need. The Golden Gate Labrador Retriever Rescue, Inc. has been rescuing labs from kill shelters and placing them in loving homes for over 30 years, and they save over 400 labs a year. Donate to their worthy efforts here.