When Mila Kunis gives a gift, she really gives a gift! The actress just surprised her parents with the most amazing home makeover, and her reason behind it is so sweet.
"They've done so many things for my brother and I. And so I desperately want to give them something that I think they deserve," says Kunis in the latest episode of My Houzz.
Aw. Her parents are hard-working immigrants from Ukraine (her mom is a physics teacher and her father is a mechanical engineer), and they moved Mila and her brother Michael to L.A. when Mila was 7 years old. It was her father who enrolled her in acting school, and her parents have always been hugely supportive of her career goals.
"My mom and my dad wanted my brother and I to have a better life, you know, better education, better jobs," says Kunis. She recalls how she was able to acclimate to the United States as a young girl, and how she learned English in less than a year. However, she says, "It was much harder for my parents."
No wonder Kunis wanted to surprise them with a big thank you! They sacrificed a lot to ensure that she and her brother Michael were able to live in a place of freedom and religious tolerance. (In past interviews, Kunis has spoken about how her family had to keep their Judaism under wraps while living in the Ukraine, as antisemitism was rife.)
Aside from celebrating her parents' selflessness, Kunis also had another motivation behind the renovation: Her parents' L.A. condo had a cramped, closed-off floor plan that made family gatherings a bit awkward. Kunis envisioned a more open, flowing floor plan that would allow for people to congregate in the living room and kitchen without being separated by walls.
So, she worked with designers from My Houzz to make the condo more open, modern and up-to-date.
Check out the before here: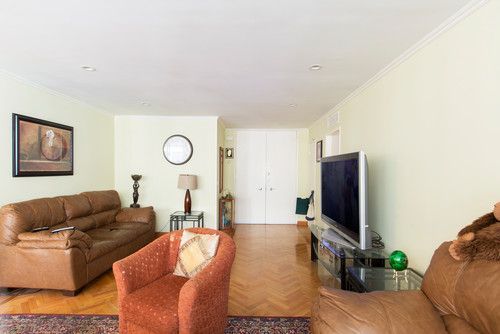 And the after:
What a transformation! Can we come over for dinner?
[h/t: PEOPLE]