Over the years, Jeff Goldblum has become less of an actor and more of a pop culture phenomenon unto himself. He has worked in a food truck. A shirtless statue was made in his honor. He somehow makes apartment hunting seem whimsical.
So yeah, if you told me there was going to be a TV show called, "Jeff Goldblum just randomly talks about random stuff," I would totally watch it. As it turns out, we're in luck.
Goldblum is set to star in a National Geographic docu-series called "The Curiosity of Jeff Goldblum." The premise of the 12-part show is pretty much all right there in the title: Jeff Goldblum gets curious about stuff. And then he tells us about that stuff in 30-minute episodes. Hopefully while laughing.
"National Geographic has a knack for developing smart, immersive narratives that expand our understanding of the world around us in creative and entertaining ways," Goldblum told Deadline. "Curiosity is a fundamental human trait."
Goldblum went on to explain that the show, "puts me in the driver's seat, guiding viewers on a mind-blowing adventure where we break down the unexpectedly complex science behind seemingly basic things."
I mean, Goldblum has already told us all about chaos theory and life finding a way and killing the mean aliens, so explaining how everyday things are made and work should be a piece of cake. Plus, he has a knack for just kind of looking like he knows more than you.
According to Deadline, the things Goldblum is curious about include ice cream, baseball, balloons and toilet paper. I don't know about you, but I can't put into words how excited I am to listen to Jeff Goldblum talk about toilet paper.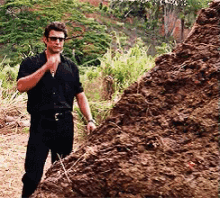 The show doesn't yet have a premiere date set, but we'll be eagerly waiting.