When you watch a Star Wars movie, there are tons of things you wish you could do in real life. Whether it's flying the Millennium Falcon, playing Dejarik against Chewbacca or competing in a pod race, the galaxy far, far away is full of awesome pastimes!
However, getting into a lightsaber duel is perhaps the ultimate fantasy of all Star Wars fans. But guess what? It's not a fantasy anymore.
If you've ever dreamed of wielding a lightsaber while you battle a Sith Lord or a Jedi Knight, you might want to sign up for classes with the LudoSport International Light Saber Combat Academy. Originating out of Milan, Italy in 2006, LudoSport is a league of teachers and students who take lightsaber dueling very seriously.
According to U.K.'s Daily Star, the academy was started by three friends who intensely studied international fencing techniques and blended them with techniques used during lightsaber battles in the Star Wars saga. Over the years, they've invited other enthusiasts to their training centers in Italy, who've gone on to spread their knowledge to students around the world.
Lightsaber students have duels that end when one opponent is hit with a "mortal blow," which means a blow that lands to the torso, neck or head. For more on how duels work, check out the video below:
https://www.youtube.com/watch?v=AYkLymHQhYk
LudoSport has held academies across the world, including in Ireland, Belgium, Sweden, France, Spain, Russia and the U.K. Americans were left out until recently when the company staged an IndieGogo campaign in 2016 with the goal of raising $10,000 to hold a lightsaber training class in San Francisco. The fundraiser ended up collecting a total of nearly $33,000 and LudoSport held an eight-day lightsaber academy in July 2016.
The company clearly has tapped into strong fanbase. On Facebook alone, LudoSport International has more than 20,000 followers. But it isn't the only company that offers comprehensive lightsaber training. San Francisco's Golden Gate Knights, the New York Jedi and Michigan's Terra Prime Light Armory are just some of the other groups that will teach you how to duel like Obi-Wan Kenobi.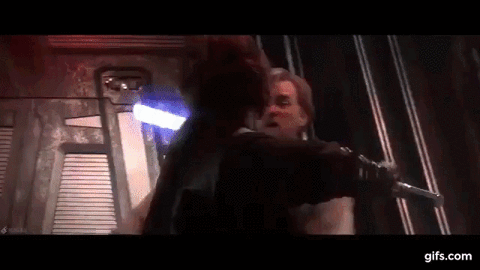 Lightsaber dueling in real life looks like an incredible way to show your love for Star Wars while also getting some exercise in a unique way. May the force be with you!
[h/t: In The Know]