Do you love pizza? Of course you do. Everybody loves pizza. Most of us would eat pizza every day if we weren't worried about becoming the size of a small blimp.
Well, one man decided that he was going to live his best pizza-eating life.
Meet Brian Northrup of New Jersey, who set out on a quest to consume an entire Domino's pizza every day for more than a year and actually LOSE WEIGHT.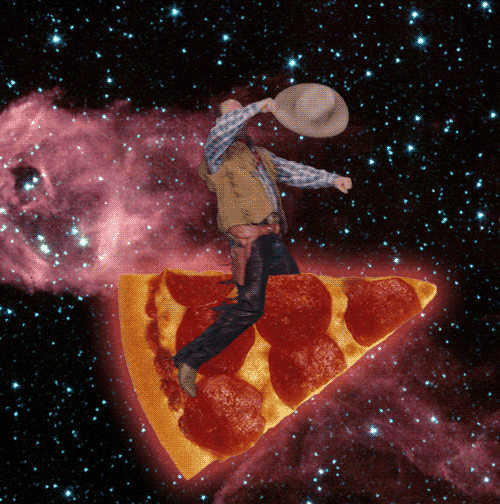 Northrup cataloged his 367 days of cheesy bliss on YouTube and Instagram with the hashtag #Pizzapocalypse.
https://www.youtube.com/watch?v=oTdd-Xry7W8
This. This is the American dream.
Every day, Northrup posted a video of himself eating the pizza and discussing whatever came into his head. (Looking through his photos, you get a sense of just how many pizza topping combinations you could try if you ate a pizza every day for 367 days!)
At the end of this carbo-loaded experiment, Northrup somehow lost six pounds and still looks ripped.
https://www.instagram.com/p/BXOgckZFny7/?taken-by=brian.northrup
Northrup said he undertook the challenge to prove that exercise can overcome a less-than-healthy diet.
"You can outwork a bad diet," Northrup told Foodbeast. "That is absolutely a goal in this, but it's not the only goal."
Of course, the key word there is "outwork." Whereas I eat a pizza and then take a nap, Northrup worked out hard, as evidenced by his photos. So the average person should probably not take on a daily pizza habit. (Sorry.)
However, while others may not take it to the extreme he did, Northrup said his workout plan may help people feel a little less guilty about indulging in a pizza every now and again. In fact, studies have shown that people who eat pizza and other foods they want are more motivated to work out.
https://www.instagram.com/p/BWBvXvPF1TD/?taken-by=brian.northrup
"Sure, you might not want, or be able to put in the amount of work that I do, but if you think you could be doing more, I just want to show that it's worth it," Northrup told Foodbeast. "If you see me, a relatively small guy, who was never a good athlete… I want to be a reminder of what's possible through hard work."
Now if you will excuse me, I am going to go try out this pizza and workout plan. Or, at least the pizza half of it…