Whether the presents are from "Santa" or Mom and Dad, kids eagerly anticipate "the most wonderful time of the year" as a way to cash in on the year's hottest toys.
However, one celebrity couple says they won't be getting their kids any Christmas presents at all this year. In an interview with Entertainment Tonight, Mila Kunis says she and husband Aston Kutcher will not be giving their two kids, Dimitri, who turns 1 next month, and Wyatt, 3, any gifts.
Kunis says that her children's grandparents spoiled her kids with copious presents last year, and she thinks the practice sets kids up to have too many expectations around the holidays.
Kunis, who is Jewish, did not grow up celebrating Christmas in Ukraine, where she was born. However, she has embraced Christmas since coming to America as a child and puts her own spin on it.
"So far, our tradition is no presents for the kids. We're instituting it this year because when the kids are [younger than] one, it doesn't really matter. Last year when we celebrated Christmas, Wyatt was 2 and it was too much. We didn't give her anything—it was the grandparents. The kid no longer appreciates the one gift. They don't even know what they're expecting; they're just expecting stuff," she explains.
Instead, Mila Kunis says she and Kutcher have asked their parents to limit themselves to one gift per grandchild. Better yet, she would prefer them to make a charitable donation in lieu of gifts.
Chances are, many parents out there can relate the idea of wanting to make the holidays less about the quantity of gifts received and more about quality time and gifting.
But Speaking Of Over-The-Top Gifts…
Ironically, when it comes to spoiling loved ones, last year Kunis surprised her parents with a home makeover.
"They've done so many things for my brother and I. And so I desperately want to give them something that I think they deserve," says Kunis about the makeover, which was featured in an episode of My Houzz.
Aside from celebrating her parents' selflessness, Kunis also had another motivation behind the renovation: Her parents' L.A. condo had a cramped, closed-off floor plan that made family gatherings a bit awkward. Kunis envisioned a more open, flowing floor plan that would allow for people to congregate in the living room and kitchen without being separated by walls.
So, she worked with designers from My Houzz to make the condo more open, modern and up-to-date. As the "after" picture shows, the crew must have knocked down some walls to open up the space. It's hard to tell it's even the same condo.
Check out the before here: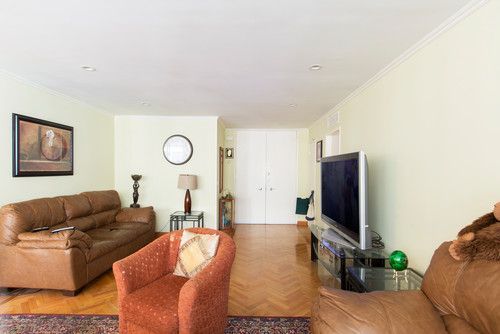 And the after:

You can watch the full episode about the renovation below:
[arve url="https://www.youtube.com/watch?v=Vzve6Gc1jCI" /]
Kunis And Kutcher Want To Raise Their Kids Right
Kunis also mentioned in the Entertainment Tonight interview that she and Kutcher take their children to the public library in order to raise enlightened and educated kids.
"Yeah, we're not gonna raise a**holes. There's enough a**holes in this world!" Kunis says. "We don't need to contribute. But, you know, there's some nice people."
Well, it certainly sounds like they're on their way to raising two delightful human beings!