Still looking for your soulmate? Well, maybe it's time to start by searching for someone who shares your love of all things Disney to find your own happily ever after.
MouseMingle is a dating site that caters to fans of Disney, helping Mickeys find their Minnies. Considering that there are dating sites for farmers, cat lovers, sci-fi fans, and even women who just want to find a guy that sounds like Hugh Grant, it's no surprise Disney devotees have their own dating site, even though it isn't officially affiliated with Disney.
Who's on #MouseMingle? Samantha from Yorba Linda, CA "I'm that 'Disney person' lol!" Check out her profile https://t.co/tL4MVL9atv pic.twitter.com/2aOk0Vybsy

— MouseMingle.com (@MouseMingle) July 27, 2017
The site has people answer questions about their favorite Disney movie and songs, and also has a lot of questions regarding the theme parks, although the site says you don't have to live near one of them to sign up.
Browsing the site is free, but to actually reach out to your Disney prince or princess, you do have to pay a $12.55 monthly fee.
MouseMingle has been around since 2015, but it recently got some attention after the LA Times published a profile on Aug. 3 on one of the site's success stories, newlyweds Kevin Guy and Kelsey Atwood-Knudson:
MouseMingle helps Disney fans find their happily-ever-after https://t.co/02ipFoObA6

— Kathleen Luppi (@KathleenLuppi) August 4, 2017
Even if some of them involve animals rather than humans, Disney movies certainly have plenty of romantic scenes to draw inspiration from, as the couple in the LA times story did when they scheduled a date at an Italian restaurant because it reminded them of "Lady and the Tramp." Awww.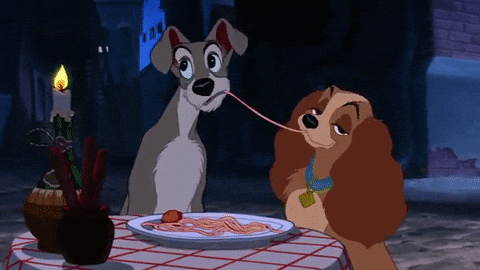 MouseMingle is now working on a mobile app, and the LA Times reported that the founder of the site, Dave Tavres, quit his job to work on improving the site so more people could find their way to their own Disney-themed wedding. Plus, he has a vested interest: Tavres designed the site to find a date himself, but is sadly still single.
If you've already found your Prince Charming or Disney Princess, that doesn't mean MouseMingle isn't for you. You can use the site to find park buddies for one of the Disney parks, find a friend to watch your favorite movie with at an AMC theater, or just connect with other fans. Personally, I just want someone to comfort me every time I watch "The Lion King" and **SPOILER ALERT** Mufasa doesn't get up.
SOMEBODY HOLD ME.