Cop Pulls Over Family Hauling Home Absurdly Large Christmas Tree
It was a scene straight out of "National Lampoon's Christmas Vacation."
One family decided to "go big or go home" for Christmas this year. And they did — they went really big.
On Nov. 24, the Sudbury Police Department in Massachusetts posted a photo of a car. Or, at least, we think there is a car under there somewhere:
"Sudbury PD would like to remind you to transport your holiday trees responsibly," the post read. "One of our officers stopped this vehicle on Route 20 today!"
Now, you can get into a debate about the police department's decision to call this a "holiday tree." (Rest assured, many of the commenters on Facebook have something to say about it.) But one thing we can all agree on: This tree is huge.
There are usually special vehicles to transport these gigantic trees. And typically they go to places like the White House or other public spaces.
Ok, maybe this family's tree wasn't that big. However, the Christmas tree this family is hauling home is almost bigger than their car, and the branches appear to be blocking most of the driver's windows.
Apparently this ambitious family spent the day wandering through the woods until they spotted the biggest pine tree and said, "Yep, that's the one."
Somewhere, Clark Griswold is smiling.
Sudbury police Chief Scott Nix told Boston.com that the family inside of the car was given a warning in "the spirit of the holidays" and that the officer at the scene helped secure the tree in a safer way and marked it with caution tape.
I just hope this family has a really big house, or the police officer is going to get called again when the entire family is pinned to the walls by pine needles.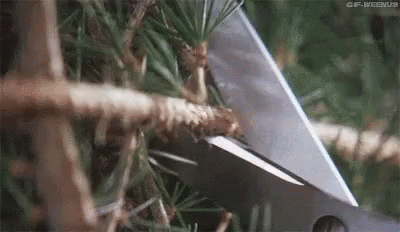 In case you still haven't loaded your family's Christmas tree on the family sedan, here are a few tips on how to decorate it.
Oh, and here are a few tips on how to get the bugs out. Because if you are bringing home a tree as large as this family's, who knows the size of the bugs you are inviting in for eggnog.
And whatever you do, just make sure not to follow Buddy the Elf's lead in how to get that star settled in nicely at the top of the tree!
Or you can skip all that and just decorate a pineapple, like these clever folks.
(H/t People.com)