If you won the lottery and could build your dream house, what would it include? Perhaps you'd love an indoor pool, a decked-out game room or an elevator to take you to the rooftop terrace. Or maybe you've always wished for a home with secret passageways like something out of your favorite childhood novel or old mystery movie.
You may or may not hit that big jackpot, but who knows? Maybe you could wind up with a house that boasts obscure entrances, clandestine corridors or hidden hallways. They're more common than you might think.
Check out these amazing homes with fantastical hiding spots that will intrigue and inspire you:
1. The Theater Wall Panel
One of the classic wood and fabric wall panels in this gorgeous home theater is actually a doorway to another room. The lower panel even flips down to offer a step up into the passageway:
2. The Hidden Spiral Staircase
Along with a charming library, elevator and even its own board room, this stunning house has secret passages throughout, including one that leads to a spiral staircase.
3. The Kitchen Armoire Passage
What looks like an unassuming farmhouse-style kitchen armoire is actually a doorway to a hideaway mudroom.
4. The Secluded Spa Bath
It may look like a simple bookshelf, but if you pull the right book, you're allowed entrance to a relaxing restroom.
https://www.instagram.com/p/Bb0IN7xlaI9/
5. The Kids' Crawlspace
Pint-size residents of this house can sneak between bedrooms using this crawl-through passage hidden in a built-in shelving unit, created by the folks at Platt Builders.
6. The Wardrobe To Narnia
These imaginative parents also turned an ordinary wardrobe and a playroom into a doorway to a magical world.
Some parents are just too cool. Parents build child special wardrobe, but not just any wardrobe – A Chronicles of Naria wardrobe, which leads to a secret play room.
7. The Wine Rack Door
A wine rack built into the wall is a nice touch, but it's even cooler when it serves as the door to a hidden wine cellar. Check out this beauty from Creative Home Engineering:
8. The Kitchen Cloak Room
Dinner with the in-laws not going so well? Sneak off into the cloak room concealed in this kitchen wall, created by Murphy Mears Architects:
9. The Sliding Fireplace
Santa isn't the only one who can travel through fireplaces. This fully automated sliding fireplace—another creation from Creative Home Engineering—acts as a doorway to another part of the house.
10. The Room Under the Stairs
A motorized staircase that lifts to reveal a secret lower room? Yes, please!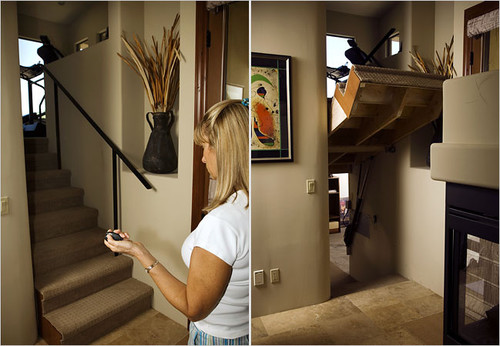 11. The Sequestered Laundry Room
Who doesn't wish they could forget about doing the laundry? This home allows the owners to put it out of sight and out of mind. For a while, anyway.
12. More Than A Man Cave
This is the stuff of every guy's dreams: a finished basement complete with a pool table, media center, fireplace, bar and, of course, a secret room behind a hidden door. Amazing work from Just Basements
13. The Kitchen With A Secret
Finally, what looks like the perfect place to display Grandma's china is also a surprising doorway in this beautiful kitchen remodel, from Colonial Craft Kitchens:
With so many unique and unexpected types of hidden passageways in homes of all types, there are likely so many more just waiting to be found. Perhaps your own house has one and you simply haven't discovered it yet.
[h/t: Digital Trends]