The products and services mentioned below were selected independent of sales and advertising. However, Simplemost may receive a small commission from the purchase of any products or services through an affiliate link to the retailer's website.
For special moments in our life like weddings, birthdays, and graduations, we always find ourselves immortalizing the event with countless photos and videos. But sometimes, life-changing moments need more than just snaps. How about commemorating them with the stars instead?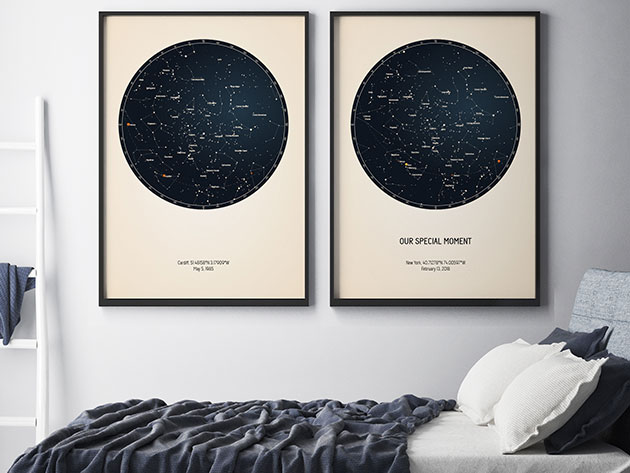 Strellas Personalized Star Maps replicate the exact map of the night sky created from a date and location of your choosing — like the day you went down on one knee or the exact moment you welcomed your first born — and print them on an 18×24 heavy-weight 180, professional-grade matte paper. Hang them on your own wall, or give one to a friend or loved one as an incredibly thoughtful gift.
The company uses NASA Astronomical Data Center's star catalog and special algorithms to accurately recreate the sky view from any location on the planet.
You can also opt to add a personal touch to your maps by adding quotes and selecting special color styles, so you'd be proud to display the map in your home.
A Strellas Personalized Star Map normally retails for $55, but you can take one home today for only $38 — a savings of 30 percent.