If you've ever felt a little nervous trying to peer at a tiny phone screen for directions and try to get a view of what's going on at the road up ahead, you're right to: driving distracted isn't only dangerous, in some states it's illegal. You can avoid getting a ticket or even worse, hurting yourself or someone else in an accident with a "heads up" navigation display like those offered by Hudly.
This Hudly Wireless Smart Driving Head Up Display allows you to get a clear view of the road ahead, as well as your most-used apps (including music or navigation). It also delivers important information about how you're driving, like your speed and RPMs, casting the information within your line of sight straight to your windshield. All you need to do is plug the device into your car's OBD2 port and mount it on your dash — it takes just minutes to install, and helps you drive with more security instantly.
The display is made of special glass that reduces glare and uses a built-in light sensor that adjusts automatically for day and night driving, or for less visibility during poor weather conditions. It also reads and transmits data with zero lag-time, with chimes warning you when you're speeding.
The rubber mount ensures that it stays locked in place, even during the bumpiest road trips. You'll get a clear view of the road ahead, and the information you need to drive better — and it's currently on sale for $259 (down from $349).
If you're not ready to invest in the full navigation system, Hudly also offers a useful head up speed display in the Hudly Lite for just $59 (currently on sale from $59).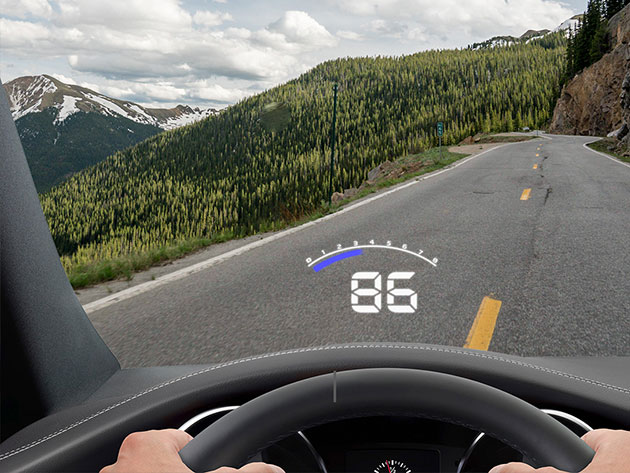 This option will keep you honest about your speed without distracting your eyes from the road to the speedometer, and back again, by displaying your speed and RPMs in plain sight. These may seem like small upgrades, but they're huge steps when it comes to your safety and that of your passengers — so choose one and grab it while it's on sale.