Who doesn't adore Garfield, the lazy, fat tabby who absolutely loves pasta and totally detests Mondays?
Clara Edwards, of Oklahoma City, said her 4- and 2-year-old daughters began watching "Garfield" about eight months ago and fell in love. So when Edwards recently served Garfield's favorite dish, one of her daughters was upset Garfield wasn't there to join them.
"She just started crying because she thought Garfield would be there to eat lasagna with her," Edwards told AZ Central. "So we were like, 'Oh, no! What do we do?' I'm not sure how she decided that Garfield was going to be at our house to eat lasagna."
So Edwards hatched a plan to get Garfield over for dinner — even though Garfield is a fictional character and they didn't even have a cat. Her genius solution? She decided to enlist the public's help with fliers. And when Twitter user @lauren_jade44 saw the flier, she understandably thought it was completely hilarious:
this was posted at my dads work and I'm CRYING!!!! RT to help Clara find an orange cat pic.twitter.com/KuqzMgUBL1

— ˗ˏˋlaurenˊˎ˗ (@lauren_jade44) August 1, 2018
"Wanted: to BORROW an orange cat for 24-48 hours, to have a lasagna dinner with Garfield-loving 4-year-old and 2-year-old children," the flier read. "Will return cat happy and cared for. Cat will not be required to eat lasagna if contraindicated."
Edwards also made sure to note that she was not looking to have Garfield move in.
"Please take your cat back at the end. Not looking to adopt," Edwards wrote. She signed it: "An increasingly desperate (but not crazy) mom-of-two with no friends that own orange cats."
The tweet took off, getting more than 10,000 retweets, with many people posting pictures of their own Garfield-like cats. Such as this one from Twitter user @C_CBarton, who posted a photo of her cat — actually named Garfield — lounging next to a box of Stouffer's lasagna:
Best I can do is a picture of my cat, whose name is actually Garfield, next to a box of lasagna pic.twitter.com/XqrbYpjNEs

— wacky frog lady🦎🍀🐸🏳️‍🌈 (@C_CBarton) August 7, 2018
Thankfully, Edwards actually found a cat whose owners were willing to play along. They all went over for dinner this past Saturday:
Meet Garfield!!! He came… He ate cat-lasagna (wet and dry @9LivesCatFood)… He played dressup…. thank you everyone that helped make this possible! My kids LOVED Garfield! @lauren_jade44 @stouffers @mashable @reddit @travisfortnum @Garfield pic.twitter.com/MpORrfoA95

— Clara Edwards (@swallownurse) August 12, 2018
While the cat was a little skinny, the girls looked like they had a good time:
One last photo from our Garfield dinner 😻 thank you again! @lauren_jade44 @mashable @USATODAY @YahooNews @stouffers @DailyMirror @nypost @TheEllenShow @reddit @9LivesCatFood @OKCFOX @Garfield @travisfortnum pic.twitter.com/E4lZe2zLdI

— Clara Edwards (@swallownurse) August 12, 2018
That's got to be one of the cutest dinner scenes ever.
If you want to have a Garfield dinner of your own, we have some lasagna recipes. Including a dessert lasagna. Because Garfield deserves the best.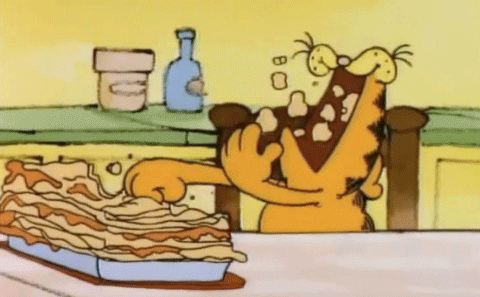 [h/t: PopSugar]