This Sesame Street/Beastie Boys 'Sabotage' Mashup Is Both Awesome And Terrifying [video]
Sunny days... and running from the law.
A Sesame Street superfan has just made the most incredible video of our favorite muppets rocking out to the classic Beastie Boys hit "Sabotage."
The original "Sabotage" video, made in 1994 and directed by Spike Jonze, earned five nominations at the 1994 MTV Video Music Awards, including Video of the Year, Best Group Video, Breakthrough Video, Best Direction in a Video, and Viewer's Choice. Sadly, the video lost in all five categories, however, in 2009, "Sabotage" won best video in the new category of Best Video (That Should Have Won a Moonman.)
Now, the classic '90s music video is receiving homage from our favorite Sesame Street characters, with video project manager Adam Schleichkorn editing clips from "Follow That Bird" to re-create the 1970s vintage style of the original video. (The Beastie Boys version was inspired by 1970s cop dramas like "Hawaii Five-O" and "S.W.A.T."
The result is pure genius. It's incredible how easily Big Bird and the gang fit into this remake (although, of course, in this version, no one is wielding a switchblade.)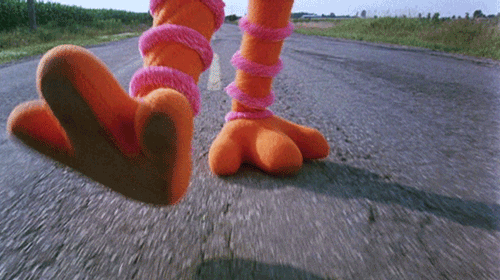 I will say this, though: As cool as this mashup is, watching the video instantly gave me anxiety. Why? Because "Follow That Bird" was a terrible, frightening movie for little kids! What in the world was Jim Henson thinking? A social worker (the creepy Miss Finch) takes Big Bird away from Sesame Street, forces him to live in a foster home with grouchy dodo birds, causing Big Bird to run away… only to be chased by "The Sleaze Brothers" who want to force him to perform in a circus! What?! And this is described as a comedy for kids?
No, no, no. My 4-year-old self could not handle my beloved Big Bird being painted blue and stuffed in a cage. And now, at 32 years old, I still don't want to see my Big Bird being bird-napped by those two creeps.
So, in summary: The mashup music video is awesome. But, "Follow that Bird" should be banned along with other horrifying kids movie like "Chitty Chitty Bang Bang" (The Child-Catcher? Really? Were our parents trying to give us nightmares?).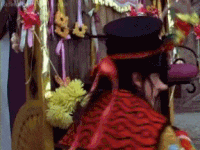 Luckily, director Adam Schleichkorn has other awesome mashups that aren't as frightening. Check out his hilarious version of Bone Thugs-n-Harmony's "Tha Crossroads":
Who knew Elmo could rap?!
[h/t: NPR]