I'm sure running a 10K is a very rewarding experience. I mean, why would anyone do it otherwise? But I would personally not know because A) I don't know how far a "K" is and B) It doesn't matter how long a "K" is because I can't run. But I'm sure that finishing a race like the Philly 10K fills one with pride.
Well, one woman in Philadelphia decided she would rather be filled with tacos.
This woman's undeniable love for tacos fueled a delicious 10k https://t.co/yrDMX1h49L pic.twitter.com/uLoxefjJPj

— Runner's World (@runnersworld) September 8, 2017
That is Anna Orso, a reporter for Billy Penn in Philadelphia. When she accidentally missed the deadline to register for this year's Philly 10K (yeah, I miss those pesky deadlines all the time, too), she got creative. On Aug. 25, Orso decided she would walk the route and stop at every taco shop along the way to eat a taco. Because tacos are life.
Orso documented the taco marathon for Billy Penn, and what results is a humorous and moving piece of writing that combines food reviews with a Homeric Greek saga.
I did the Philly 10K except I walked it and ate every taco along the way. https://t.co/dBJ8LAr8Z6 pic.twitter.com/VxEQHchxNU

— Billy Penn (@billy_penn) August 25, 2017
Now, eating a bunch of tacos sounds like an awesome way to spend the day, but our intrepid hero encountered numerous obstacles along the way. For one thing, while we have been denied the America of taco trucks on every corner, there were still plenty of taco places along Orso's route, and most of them required her to order multiple tacos.
That's a lot of tacos.
And in addition to a full stomach, Orso also had to overcome closed shops, soggy tortillas and the irrepressible urge to drink a margarita.
When all is said and done, Orso consumed 14 tacos and walked about 6 miles over 5 hours, thus becoming the greatest athlete Philadelphia has ever seen. Move over Rocky.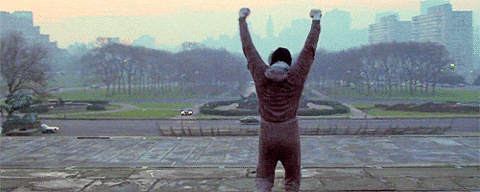 If you want to try something similar in your town, you need to get into shape. Might I suggest the taco cleanse diet? Yeah, you just eat tacos for 30 days. It sounds like my kind of diet.
One tip from Orso: "Please bring friends because eating more than a dozen tacos alone was sad!"
Say no more, Anna. I've booked my ticket to Philly. I'll eat tacos with you. I might skip the walking part, though.