First there was the Unicorn Frappuccino, then the Dragon Frappuccino  and even a Pumpkin Cheesecake Frappuccino. And now, just in time for Halloween, rumors are swirling about Starbucks introducing a new icy beverage called the Zombie Frappuccino! That's right — zombies! I mean, we're all zombies without our coffee anyway, right?
A blogger for a site called Day of the Human has reportedly leaked Starbucks' plans to release the "extremely limited" Zombie Frappuccino between Oct. 26 and Oct. 31.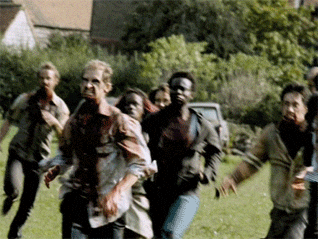 According to what appear to be marketing materials uploaded to the site, the drink will be made from a "Crème Frappuccino syrup base," and blended with "green caramel apple powder" and "pink powder." And, of course, what type of zombie drink would it be without brains? Those are said to made of pink whipped cream!
Braaaaaains.
THERE'S A NEW ZOMBIE FRAPPUCINO COMING SOON AND I'M NOT READY😍 pic.twitter.com/86wvzkLSev

— Brandon (@BrandonEazyy) October 11, 2017
While this rumor is still officially unconfirmed, the coffee chain did hint at a new item just in time for Halloween. "Our Halloween plans are still under (mummy) wraps, but we look forward to sharing more details with the living soon," a spokesperson told Fox News when asked about the Zombie Frappuccino.
Official Starbucks PR is being coy, but a few baristas — who would need to learn how to make the new drinks ahead of time— seem to be verifying the release of Zombie Frappuccino on Twitter. They, however, seem not be quite as excited as their customers:
https://twitter.com/Anevfi0089/status/918268919982391296
The Zombie Frappuccino will simply be the end of me. #baristaproblems

— keesha dawn (@keeshadawnn) October 11, 2017
https://twitter.com/edsugarcookie/status/920285783122116608
Photos on Instagram also appear to show Starbucks employees making signs for the new drink, which further makes us believe it's totally happening!
https://www.instagram.com/p/BacjbeoFoY2/?hl=en&tagged=zombiefrappuccino
https://www.instagram.com/p/Babz9N0DfbT/?hl=en&tagged=zombiefrappuccino
https://www.instagram.com/p/BadRqNcFnBH/?hl=en&tagged=zombiefrappuccino
(And FYI, the Zombie Frappuccino should not be confused with "secret" drinks called The Wired Zombie or The Franken Frappuccino that Starbucks fans created in the past. If true, this new zombie drink would be all new and not on a secret menu.)
If/when the Zombie Frappuccino is released in the U.S., it will be around the same time another new Halloween-themed drink called Vampire Frappuccino is released in the U.K. The Vampire Frappuccino is confirmed, according to the UK's Sun, and made with chocolate and strawberry sauce.
The U.S. saw its own version of a Vampire Frappuccino in 2015 called the Fang-tastic Frappuccino and the "secret" Franken Frappuccino the year before.
My first Franken Frappuccino!#A79UNITED pic.twitter.com/0OtiuGzTeu

— Chris Sacklyn (@csacklyn) October 28, 2014
But wait! There's one more Halloween-themed treat to go along with the freaky Frapps. You can also nosh on this adorable mummy cake pop!
https://www.instagram.com/p/Bab8NS-D6Ss/?hl=en&taken-by=starbucks
Frappuccinos (or brains) not your thing? Just make sure to get your hands on the Pumpkin Spice and Maple Pecan lattes before they're gone for the season.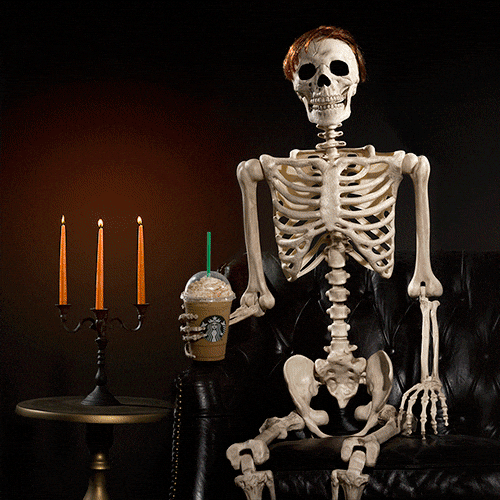 Happy Halloween!