The products and services mentioned below were selected independent of sales and advertising. However, Simplemost may receive a small commission from the purchase of any products or services through an affiliate link to the retailer's website.
There aren't many supporting characters from books and movies that are remembered just as much—or more than—the main characters, but Emily Charlton from "The Devil Wears Prada" is on that list. She's snarky, somewhat mean and often selfish, but you somehow still admire her.
I know I could use a little bit of her ability to tell it like it is.
Now, Emily will get the starring role she deserves! Or at least the one she thinks she deserves… The character will be the focus in "The Devil Wears Prada"-author Lauren Weisberger's newest book "When Life Gives You Lululemons." (LOL to that title, too!)
For those unfamiliar, Emily—played by Emily Blunt in the movie adaptation—was assistant to Miranda Priestly, the feared editor-in-chief of a popular fashion magazine. Her job was pretty high-stress and demanding and in the story, her task was to find a second assistant (famously played by Anne Hathaway in the film version). If she didn't? She could lose her own job.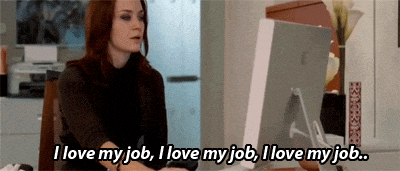 According to Entertainment Weekly, the new novel will be about Emily's life away from Miranda. She now works as a high-profile image consultant and lives in Los Angeles. The plot of "When Life Gives You Lululemons" focuses on a trip Emily takes to Greenwich, Connecticut, with a "dream client" she's trying to land.
The client, a former model and current senator's wife named Karolina Hartwell, recently got a DUI while driving with other people's children. Yikes! There will also be a character named Miriam, who recently left a big law firm to try her hand at being a stay-at-home mother, only to find it far more intense than she expected.
Together, the three of them navigate life in the suburbs of a town that sounds picturesque, but isn't exactly as it seems. "When Life Gives You Lululemons" hits shelves June 5, 2018, but EW has already revealed a sneak peek of Chapter 1!
https://www.instagram.com/p/Bc2m2myBD98/?taken-by=laurenweisberger
In the excerpt, Emily—now married to a guy named Miles who has a "beautiful body"—is at Gigi Hadid's house on New Year's Eve when she gets a phone call asking her to head back to New York. Why? To handle a Justin Bieber-type celebrity who showed up at a party wearing a Nazi uniform after Ryan Seacrest's New Year's Eve show.
But while work calling you in the middle of a party might seem like a nightmare for everyone else, someone's bad news is good news for Emily, and she boards a plane first thing in the morning.
Sounds like juicy summer reading!
You can read the entire excerpt by clicking here, but I'm warning you—you'll wish you could keep reading!
Can't get enough of Emily? You'll get to see her soon when "The Devil Wears Prada" comes to Broadway.