While everyone loves to think of themselves as jolly and festive when the holidays roll around, the truth is, we can all feel a bit "bah humbug" at times. From long shopping lines to snow-covered roads and the work of planning a family gathering, the holidays definitely come with some stressful situations.
But if anyone truly knows what it's like to be grumpy around the holidays, it's everyone's favorite green curmudgeon, The Grinch! Not only is there a new movie starring Benedict Cumberbatch currently in theaters, but Build-a-Bear has also released a stuffed Grinch that is sure to bring some joy this holiday season — and straighten out any bad attitudes that might pop up.
The Build-a-Bear Grinch costs $25.50 and children can stuff it themselves at their local Build-a-Bear. If you'd like to accessorize your Grinch, you can purchase a Santa suit for $16, or if you'd rather just give a regular Build-a-Bear a pair of Grinch feet, that's possible, too, for $7. You can also purchase the full-sized bear already stuffed in case you won't have time to make it to a Build-a-Bear by Christmas.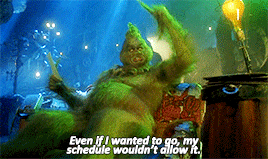 If you're not a fan of the Grinch but still want to build a holiday stuffed animal, Build-a-Bear is also offering characters from "The Polar Express" and Disney's "The Nutcracker and the Four Realms." There's also a collection called "Merry Mission" that features winter animals, like reindeer, moose and bunnies, all with fun names like Twinkle, Candy Cane and Merry Mint.
Will you be heading to your local Build-a-Bear to build a Grinch?