At 7 feet 4 inches tall and 520 pounds, Andre the Giant was arguably the most intimidating professional wrestler of all time. Now, a new HBO documentary will explore Andre the Giant's life inside and outside the ring, from his wrestling and film career to his infamous "drinking binges" and the darker side of what it meant to be "The Eighth Wonder of the World."
"Andre the Giant" will premiere April 10 on HBO, two days after WrestleMania 34, the premiere event of WWE, the company that Andre helped build into a household brand in the 1980s. The new trailer takes viewers through Andre's early days, all the way to his declining health as the body he was so famous for began to break down.
The hulking man was born Andre Roussimoff in France in 1946 to average-size parents. He had four siblings who were also of average builds. But, despite already being 6 feet 7 inches tall by the time he was 17 years old, Andre was not diagnosed with gigantism until his early 20s. Later in life, he also developed acromegaly.
He started wrestling in the 1960s and became quite popular in the 1970s, even going undefeated for nearly 15 years in the WWE. His most famous match—and possibly the most famous match in the history of wrestling—took place at WrestleMania III in 1987 against Hulk Hogan.
Hogan later described his awe of Andre and the many issues his size caused him:
"For more than 20 years, Andre the Giant's larger-than-life personality and unique charisma captured the imagination of fans around the world," WWE chairman and CEO Vince McMahon said in an HBO statement about the documentary. "I will always value our friendship."
Andre's amazing stature also led to some movie roles, including in "The Six Million Dollar Man", "Conan the Destroyer" and the film he is perhaps best known for, "The Princess Bride," in which he played Fezzik.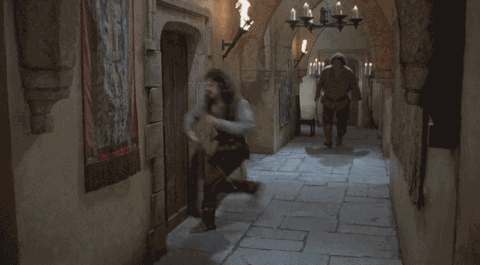 Sadly, over the years, the effects of his size continued to wear down his body and Andre passed away in 1993, when he was just 46 years old. Following his death, Andre was the first inductee into the WWE Hall of Fame.
"Everyone who ever crossed paths with him has an Andre story—and usually four or five," said Bill Simmons, executive producer of the documentary. "I'm delighted to join forces with [director] Jason Hehir and WWE so we can capture Andre's amazing story once and for all."
Whether you were into wrestling, a fan of his work in film or television or aren't familiar with him at all, it looks like "Andre the Giant" will show us all a glimpse into a fascinating life.
Do you have any Andre the Giant memories?